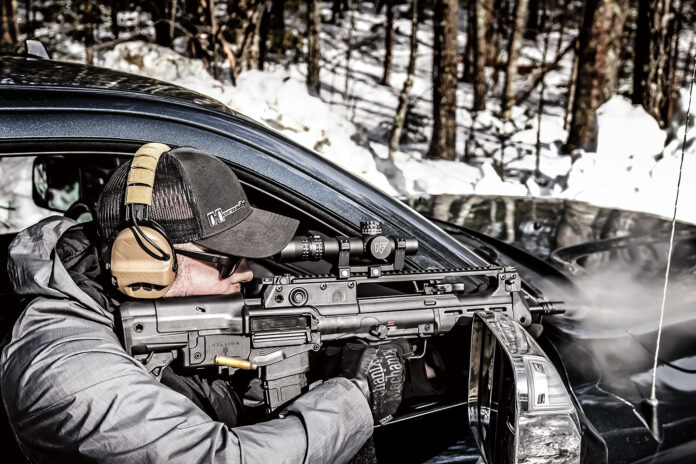 Springfield Armory Hellion
By: Chris Mudgett
A Better Bullpup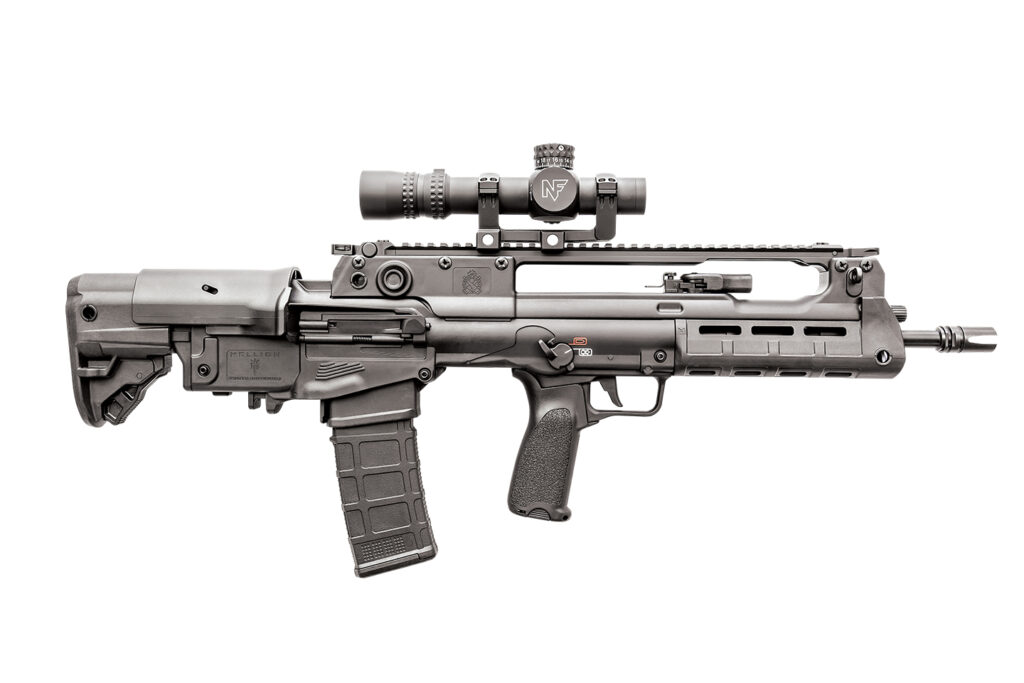 It could be said the bullpup market here in the United States has been a little on the stagnant side since, well, forever. The late '70s saw Steyr introduce the AUG, which was popularized by the movie Die Hard, even if used by a villain. Nearly 20 years later, IWI released the Tavor, which was subsequently issued by Israeli's IDF, giving the platform some street cred here. Fast-forward to 2021, and the bullpup crowd was re-invigorated, this time by the (slim) chance the United States Army would select the design as its NGSW rifle platform, even if put forward by an established defense industry giant … who should have known better.
Alas, the hopes of bullpup aficionados continued to be dashed until, right out of nowhere, Springfield Armory swooped in, skirted to the front of the line, and dropped the best and most advanced bullpup of them all — the Hellion.
Springfield Armory and bullpup? I know, right? Acute observers likely saw this one coming, given Springfield's relationship with HS Produkt, whose VHS rifle has made advancements in not only the Croatian military but within the Iraqi Army, Syrian fighters, and others.
Given Springfield's recent tear to the top of the industry, dominating another product category seems to be just their style, especially at this point in the game. While I'm surprised by the bullpup introduction, the company obviously saw a chance to improve on a platform that needs all the help it can get. Outside of a bullpup's stand-out trait of being able to house a 16-inch barrel in a smaller overall package size compared to a traditional carbine, Springfield has a whole lot more up its sleeve with the Hellion, so let's take a look.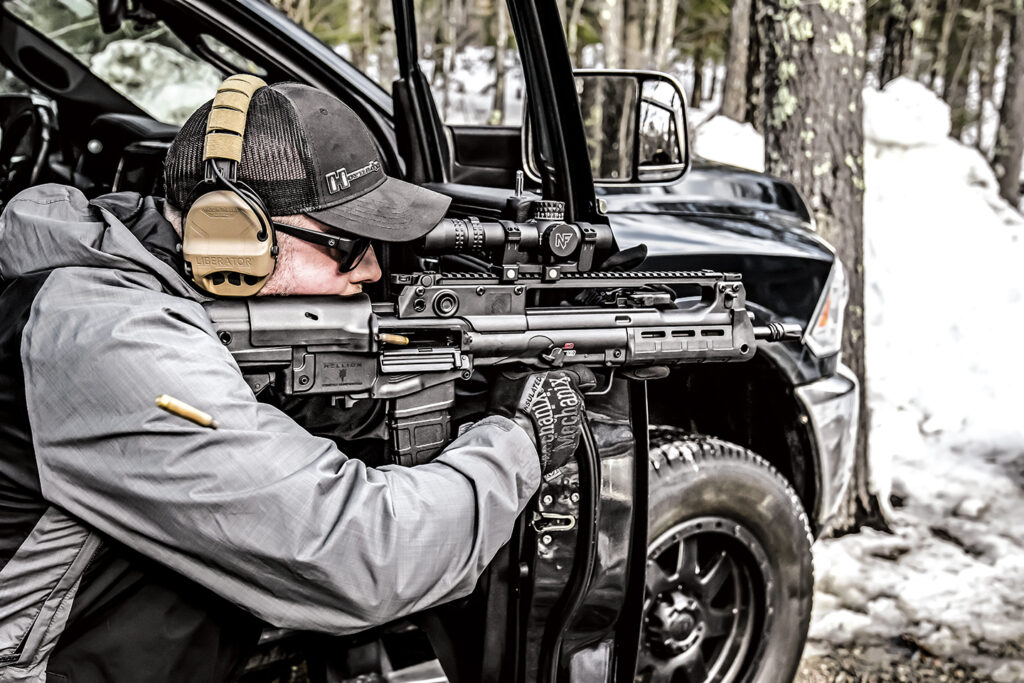 Trigger
Typically, bullpup carbines offer users one of the worst trigger pulls of any rifle, period. They flat out suck, and there isn't much you can do to fix that due to the length of the linkages that must stretch from the trigger housing far rearward to the fire control module. While the trigger in Hellion isn't comparable to, say, a Geissele in an AR-15, it's probably on par with a standard Mil-Spec M4 trigger with a bit more creep. Which is to say it's pretty average when compared to a traditional rifle, but it's straight-up awesome when compared to other bullpups.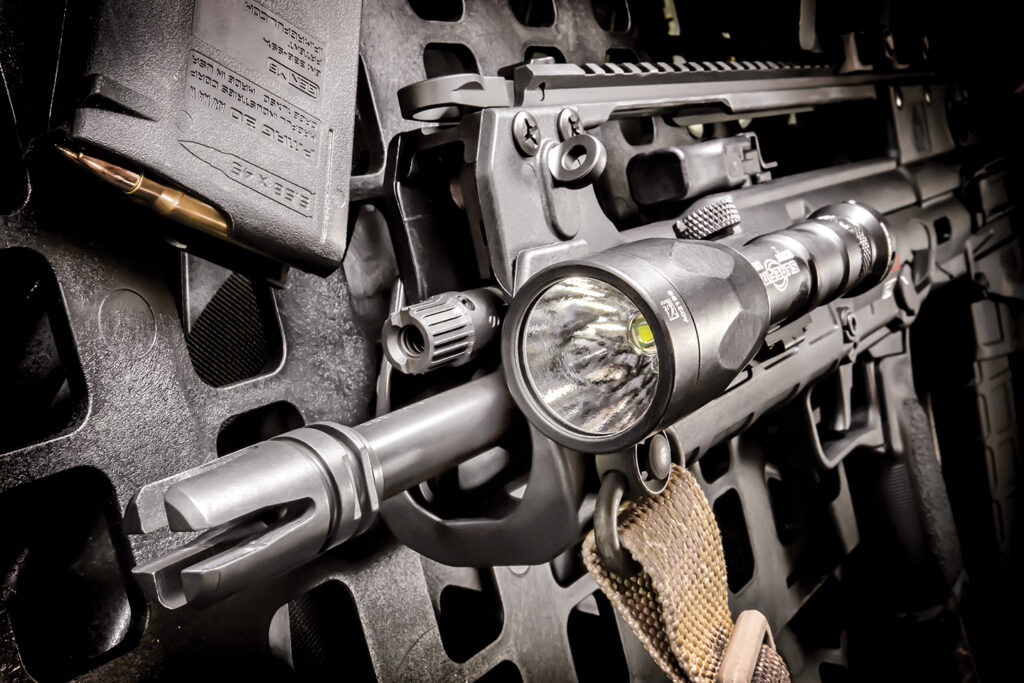 Controls
One of the things I really hate about bullpups, aside from their horrible trigger pulls, are the controls, placement of said controls, and overall crappy manual of arms. There are more drawbacks, but let's focus on those for just a minute.
I'm not wrong-handed, but those who are traditionally despise bullpups for obvious reasons. All the controls on the Hellion are ambidextrous, including a pair of ejection ports located on the left and right side of the carbine, allowing you to choose which side spent cases will eject from. This is quickly achieved by removing the cheekpiece, pulling an ejection port pin, reinserting it on the other side, and ensuring your bolt is positioned correctly. The Hellion solves this little functional issue with a smart design that doesn't discriminate, regardless of hand dominance — a kinder, gentler bullpup, if you will.
The non-reciprocating charging handle is spring-loaded and located along the centerline of the rifle, just beneath the optic rail, where it should be on this platform. It's large enough to get a quick purchase on it with an index finger and scalloped enough to maintain your leverage over it throughout the stroke. The magazine release is also located along the platforms centerline, just behind the AR-15 mag compatible magazine well. Just behind that resides the bolt release. Like other features found on the Hellion, the placement and function aren't great for users indoctrinated to the AR platform but are light years ahead of other bullpups, which makes the Hellion pretty darn good.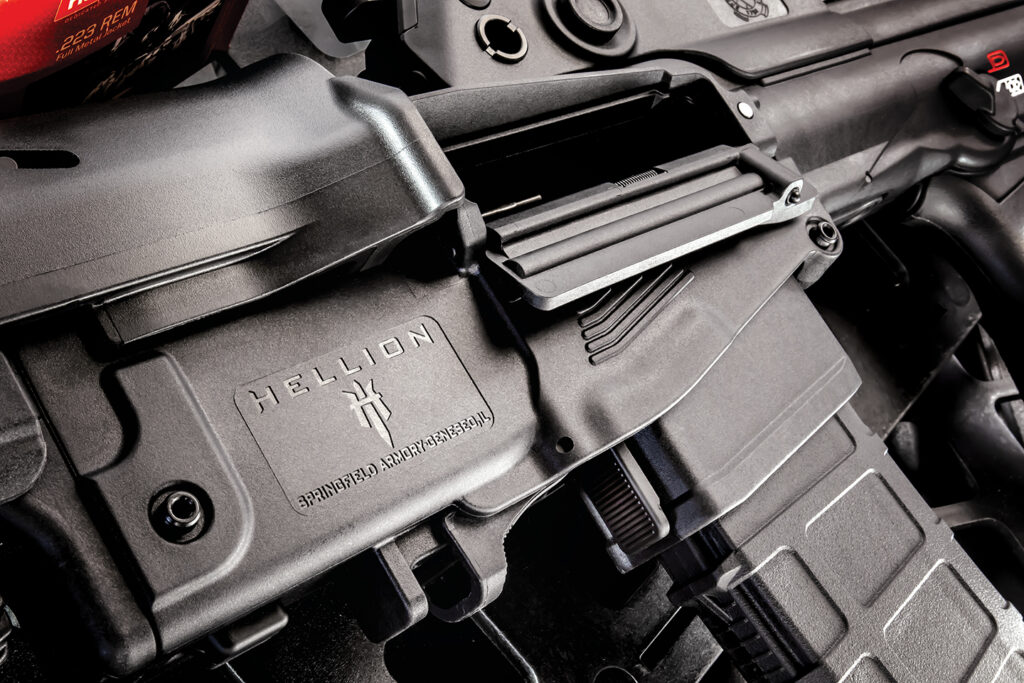 Selector
The safety selector takes a little getting used to, less so if you have XXL hands, which I thankfully have. Those will smaller digits will have a steeper learning curve, kind of like trying to reach that item on the top shelf when you're just not tall enough. That said, I found with a little practice, it functioned flawlessly, even if upside down compared to an AR. For those not entirely settled on their defensive platform of choice, the Hellion certainly does the safety selector bit better than most, albeit European-ish.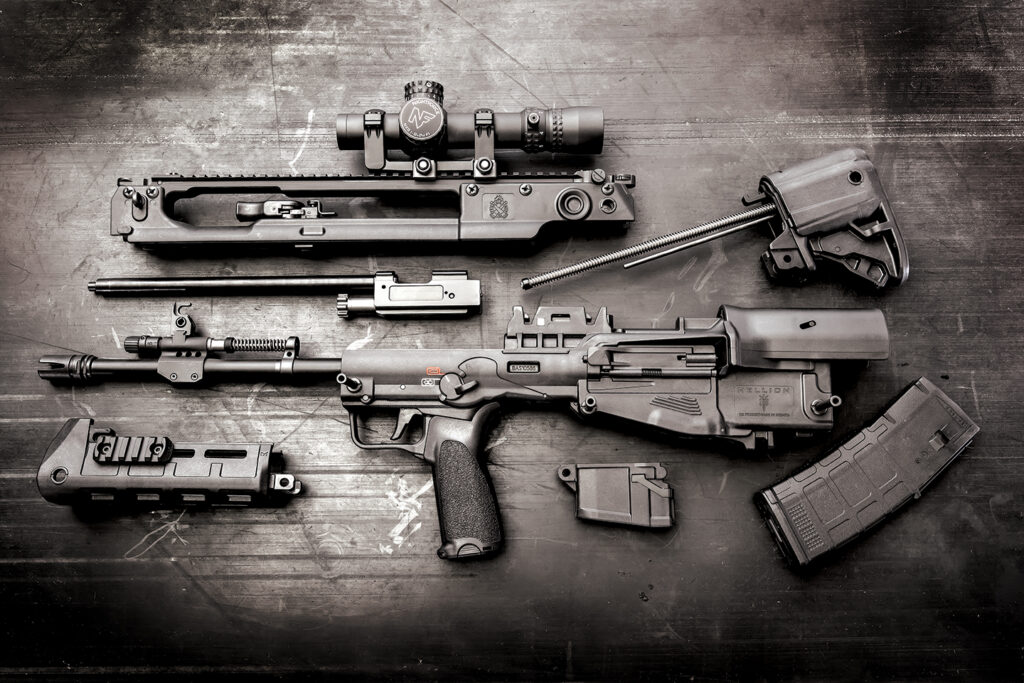 Grip
Typically, you're screwed when it comes to grip replacement on a bullpup, you get what you get, and it doesn't help to get upset. Except in the case of the Hellion, which is smartly compatible with the myriad of the more aesthetically pleasing (compared to other bullpup designs) AR-15 grips available on the secondary market. It comes with BCM's Gunfighter pistol grip, and if that isn't your style, simply spike it into the parts bin and replace it.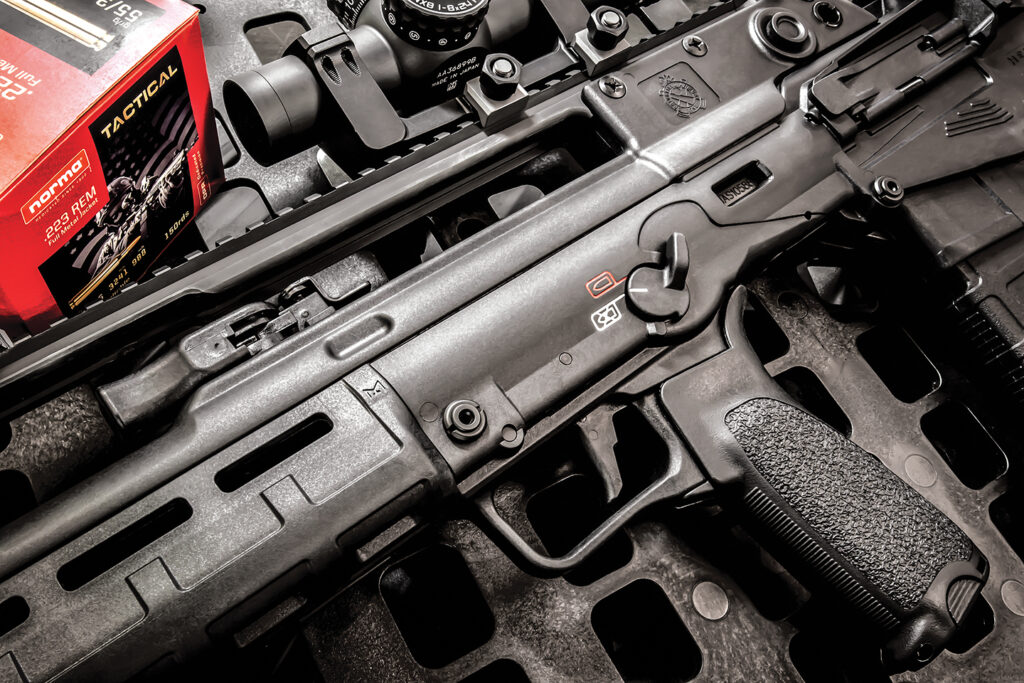 Stock
Traditionally, with a bullpup, the ergonomics and length of pull are fixed from the factory. You fit yourself to the gun, not the gun to you. Well, ladies and gentlemen, it's 2022, and we don't play that way anymore; we get a choice. Fully recognizing this fact, the Hellion comes with a five-position adjustable stock. It's spring-loaded, which is a little on the weird side at first, especially if your preference is somewhere in the middle between collapsed and fully extended. The Hellion not only gives you the ability to adjust length of pull to your shooting style or stature, but you can also make adjustments for your head placement via an adjustable cheek riser. This little feature gives tremendous flexibility in not only optic choice but optic height as well.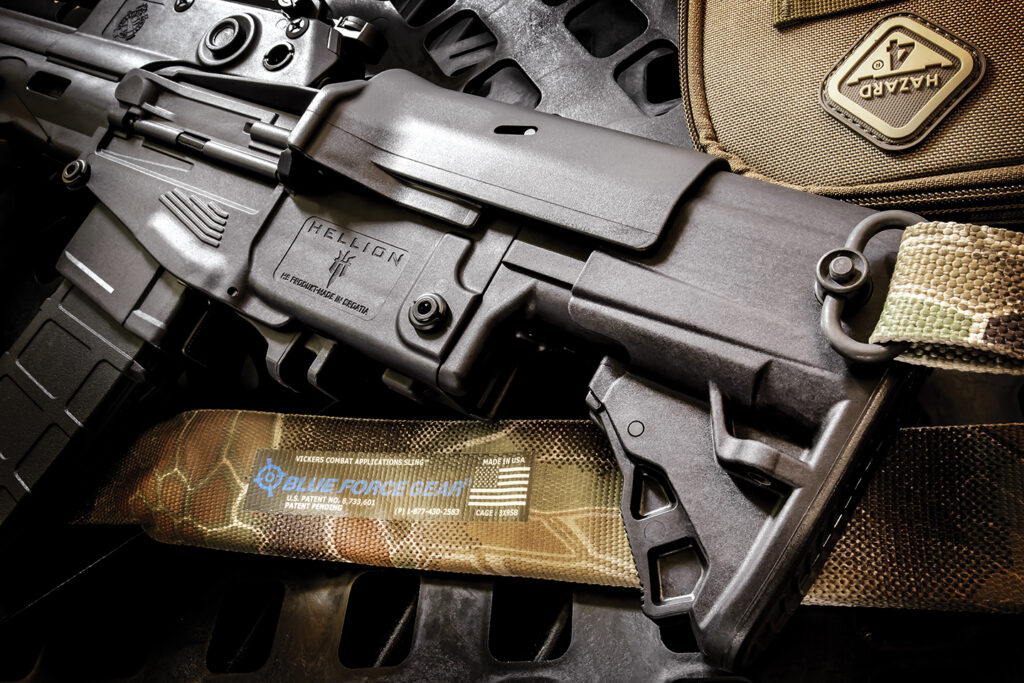 Optic Rail
Which brings us to the removable top rail that doubles as a carrying handle. There is significant top-rail real estate to mount virtually whatever optic your heart desires, from red dots (with magnifiers) to low power variable optics like the Nightforce NX8 shown; high-power optics, clip-ons, prisms, aiming lasers — well, you get the idea. While word has likely reached Springfield that iron sights are out of vogue, props should be given to the product manager, who made a smart compromise by integrating a set of fully adjustable irons that lay flat and remain unobtrusive until needed. When called upon, they each spring into place with the press of a button.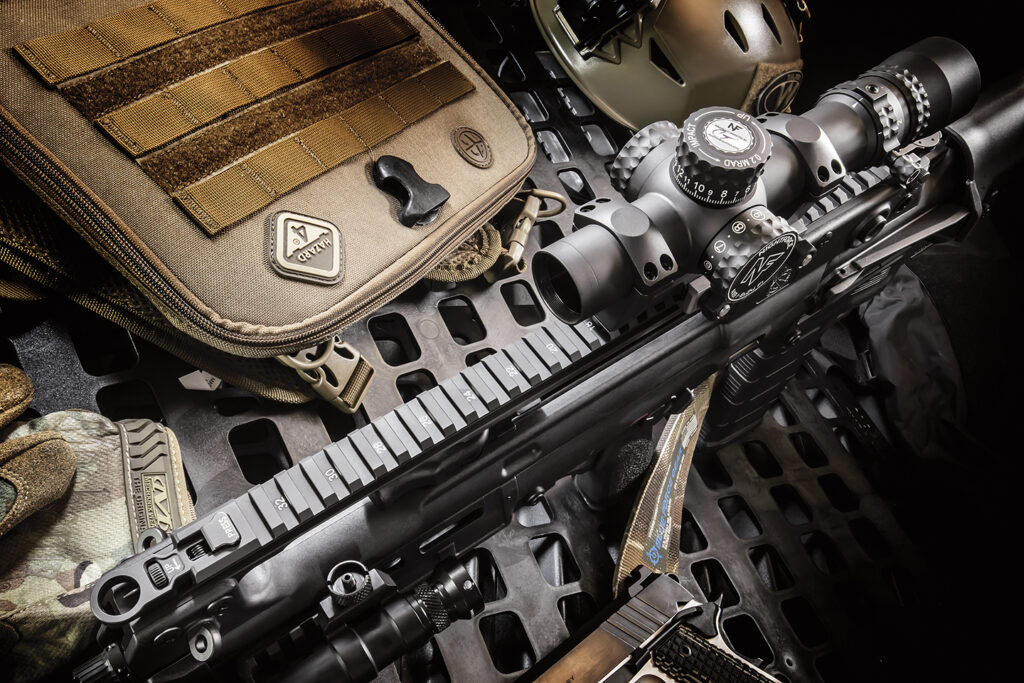 Forend
The forend features M-LOK compatible slots at 3, 6, and 9 o'clock to accept any needed accessories, or leave it slick for a streamlined, easy to stow, compact package with full-length carbine capability.
Sling Options
The Hellion features a total of six anti-rotation QD sling cups and four hook locations. The latter are located at the fore and aft ends of the carbine; the front two rotate to ensure your sling stays out of the way of the charging handle area. Your options are pretty much endless with the QD cups, allowing front, rear, and mid-point placement on both sides of the carbine. The Hellion is a bit hefty at 8-pounds empty, so a padded two-point adjustable sling should top your accessory list post-purchase.
Performance
So, how does it shoot? Recoil was tame, although the impulse was foreign in feel compared to an AR. The bulk of the gun sits a lot closer to your body, making the platform feel more nimble than its weight would suggest. The Hellion features a short-stroke gas piston with a two-position gas valve for normal or suppressed shooting and, during testing, was completely reliable. Our best group was achieved with Hornady 55-grain American Gunner ammunition, printing a five-shot group measuring 0.90-inches at 50-yards. Average group sizes ranged from 0.98 to 1.53-inches with all ammunition.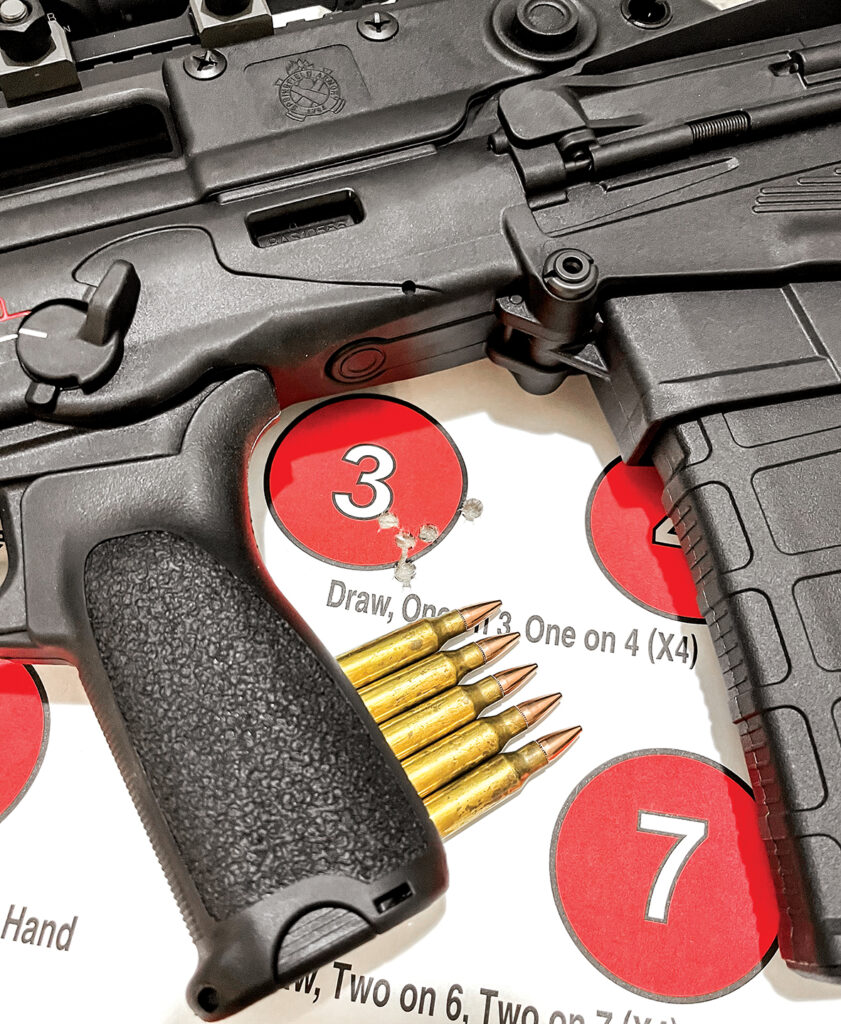 Conclusion
For those of us that have historically despised anything resembling a bullpup and recoiled at the thought of ever owning one — and I can't believe I'm about to say this — the Hellion, without question, makes the best of the historically flawed design. In fact, it's actually quite palatable after spending some quality time with the platform. Given the thoughtful and very functional updates to the platform, I would say Springfield Armory is making a best-in-class platform with the Hellion, and I have found myself encouraging others to give it a try. See the new Hellion at your nearest dealer, or for more information, contact Springfield Armory; Tel.: (800) 680-6866; Web: www.springfield-armory.com.
Specifications:
Type: Short-stroke gas piston, semi-automatic
Caliber: 5.56 NATO
Barrel: 16 in., 1:7 in. twist
Overall Length: 28.25 in.
Weight: 8 lbs.
Stock: 5-position, adjustable
Grip: BCM Mod. 3
Finish: Melonite
Capacity: 30-rounds
Muzzle Device: 4-Prong Flash hider
Sights: Flip-up, adjustable
MSRP: $1,999